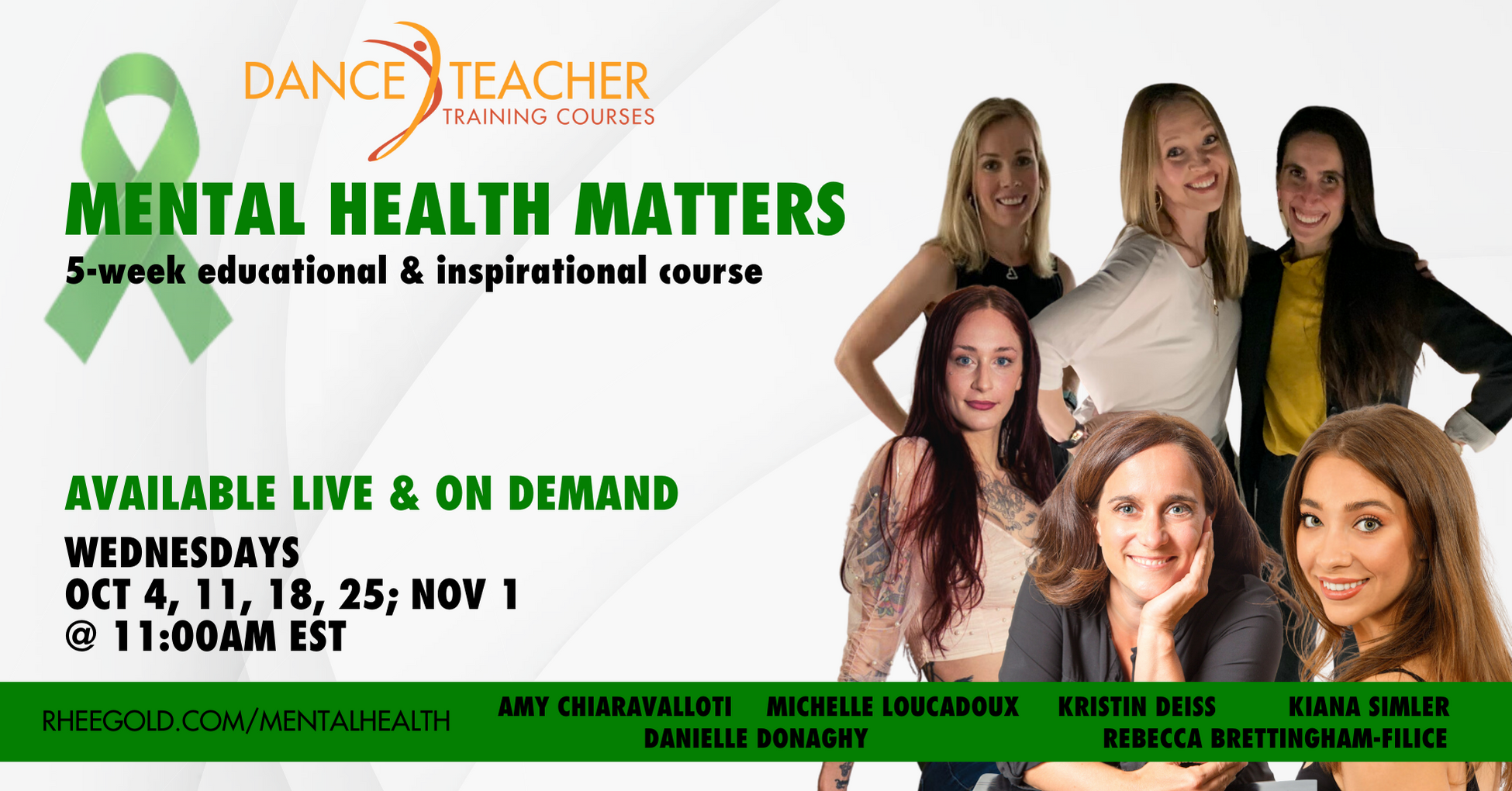 A 5-week course for ALL dance educators and everyone who works with youth.
Mental Health Matters

AVAILABLE LIVE & ON DEMAND
Now, more than ever, the importance of understanding and addressing mental health challenges is at the forefront of working with youth. Join Rebecca Brettingham-Filice, Amy Chiaravalloti, Kristin Deiss, Danielle Donaghy, Michelle Loucadoux & Kiana Simler-Fuoco for five weeks of education, discussion and growth. Designed for all dance educators, it will develop a greater understanding of how to identify, help with and support mental health struggles in young dancers and everyone who walks through your studio doors.
$99 for 1 attendee
$159 for 2+ attendees
ALL SESSIONS TAKE PLACE AT 11:00AM EST
Coping Methods that Work
Session 1: Oct 4
Presenters: Kristin Deiss & Michelle Loucadoux, Danscend
The first session is dedicated to a better understanding of how dance educators can help their students handle and cope with various stressors. Dancers do a whole lot of things that might seem stressful to non-dancers, so empowering them with tools to grapple with these feelings is essential. Included will be discussions on dealing with failure, rejection and the common troubles that routinely affect our students.
Healthy Mindfulness
Session 2: Oct 11
Presenters: Rebecca Brettingham-Filice & Kiana Simler Fuoco, Mindful Dancers Wellness Studio
Session two is a deep dive into mindfulness and how it promotes overall health mentally, physically and emotionally. Meditation and emotional regulation techniques will be explored and how to apply those to your teaching and classroom. In addition, practical exercises will be taught that engender a flourishing sense of body awareness and the importance of self-care for students of any age.
Identifying Challenges & Supporting Solutions
Session 3: Oct 18
Presenters: Amy Chiaravalloti, Mental Health First Aid Instructor
American teens are facing unprecedented rates of depression and suicide. In this interactive session, participants will learn to identify and understand the signs and symptoms of common mental health challenges among teens and young adults.  In addition, participants will discover best practices for responding to students who may be experiencing mental health challenges and have the chance to practice using these techniques in a safe environment. Participants will also gain an understanding of how to best support teens who are experiencing a mental health challenge and will learn about the importance of connecting a student who is struggling to appropriate resources.
Bridging the Gap
Session 4: Oct 25
Presenters: Danielle Donaghy, Power Pointe
In the fourth session, attendees will share in an incisive look into understanding the mindset of teenagers and how to best "bridge the gap" between the various generations of dance educators so that classroom instruction, personal interaction and the overall studio environment can best relate to the unique mental and emotional needs of its students. There will also be discussion on the importance of promoting authenticity and self-expression in young dancers. Finally, attendees will leave with practical tools to build a newfound confidence in themselves to foster growth and creativity in their dance studios.
YOUR Mental Health Matters
Session 5: Nov 1
ALL Presenters
The final session brings together all the course's presenters for a frank and informative discussion on the mental health challenges and needs of the educator. Q & A will take place allowing attendees the opportunity to grow in a deeper understanding of their own mental and emotional needs and how to properly address them. At the heart of the discussion is the understanding that "an empty cup cannot fill others," so dance educators and everyone who works with youth have a responsibility to stay healthy in mind, body and spirit.
15-minute Q & A for live participants

Includes links to resources & handouts for each lesson!