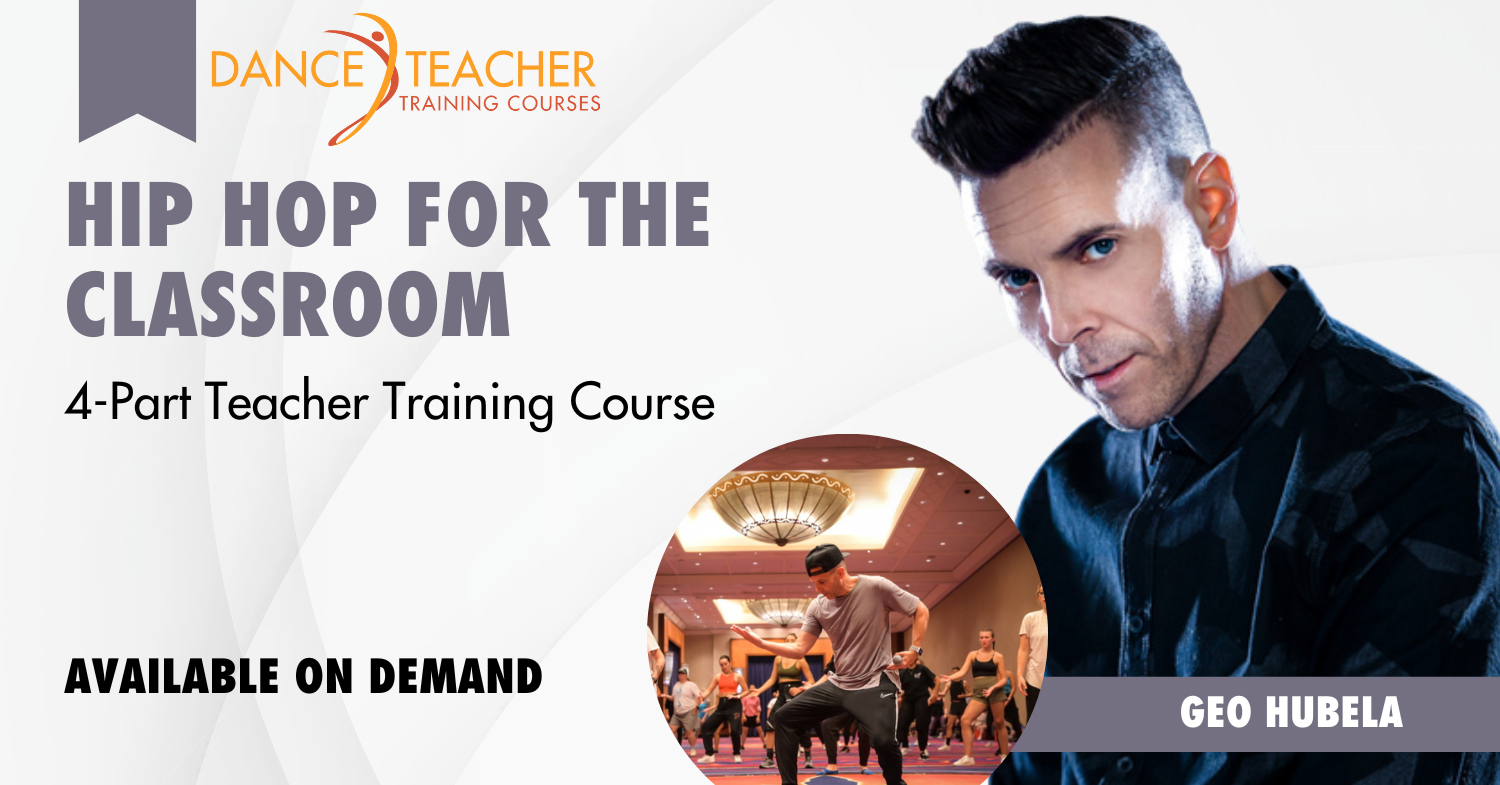 4-Part Series for ALL Dance Educators
Hip Hop for the Classroom
AVAILABLE ON DEMAND
Join Geo Hubela for a 4-part course focused on bringing an effective and translatable hip-hop regiment into the classroom. GEO's HIP HOP format is a planned system of grooves, techniques, progressions and skills he utilizes daily in the classroom to enhance students at every level, while keeping his lessons relatable to every level of dancer. This course is streamlined and straightforward, so that it can be executed by any teacher with the knowledge and ability to run a structured dance class.
Starting Class with the M_E_M_S System
Session 1
The first session will be about setting the tone, vibe, tempo and goals within the first 5 minutes of class. We'll do this through a system called M_E_M_S : MUSIC, EXPRESSION, MOVEMENT & STRUCTURE. This session will: set the tone through the MUSIC; set the vibe through our EXPRESSION; set the tempo through the MOVEMENT; set the goals with our class STRUCTURE.
Choreography - Create Movement to Match the Music
Session 3
In this session, focus will be upon hip hop choreography and creating a routine for the classroom. From selecting the music and theme to making it unique in vision and the very first step. The routine creation process will be studied, from the formations and looks to the transitions, the tempo and overall tone of the routine, and finally the goal of your creativity.  Let's explore how we can take our M_E_M_S system and apply it to choreography.
Progress with Progressions
Session 2
Session 2 will focus on GEO's personal favorite: hip hop progressions. Progressions, as a hip hop teaching tool, are beneficial in achieving multiple learning skills in a group setting. Foundations, transitioning, spatial awareness, directional changes, movement opposition, weight change, tempo and style are just a few of the skills that can be translated and taught while executing progressions across the floor. GEO will breakdown how these multiple skills can be achieved through any one basic skill and how he layers elements within the skill to make it relatable at any dance level.
Hip Hop Class Elements & "Rap Up"
Session 4
In Session 4, we will explore center-floor hip hop foundations, strength training through dynamic stretching and core work, and finishing up class with freestyle, otherwise known as the "CYPHER." This session will discuss why dancers LOVE or HATE freestyle and how to overcome those obstacles. The course concludes with some added inspiration from GEO.
Includes links to resources & handouts for each lesson

!