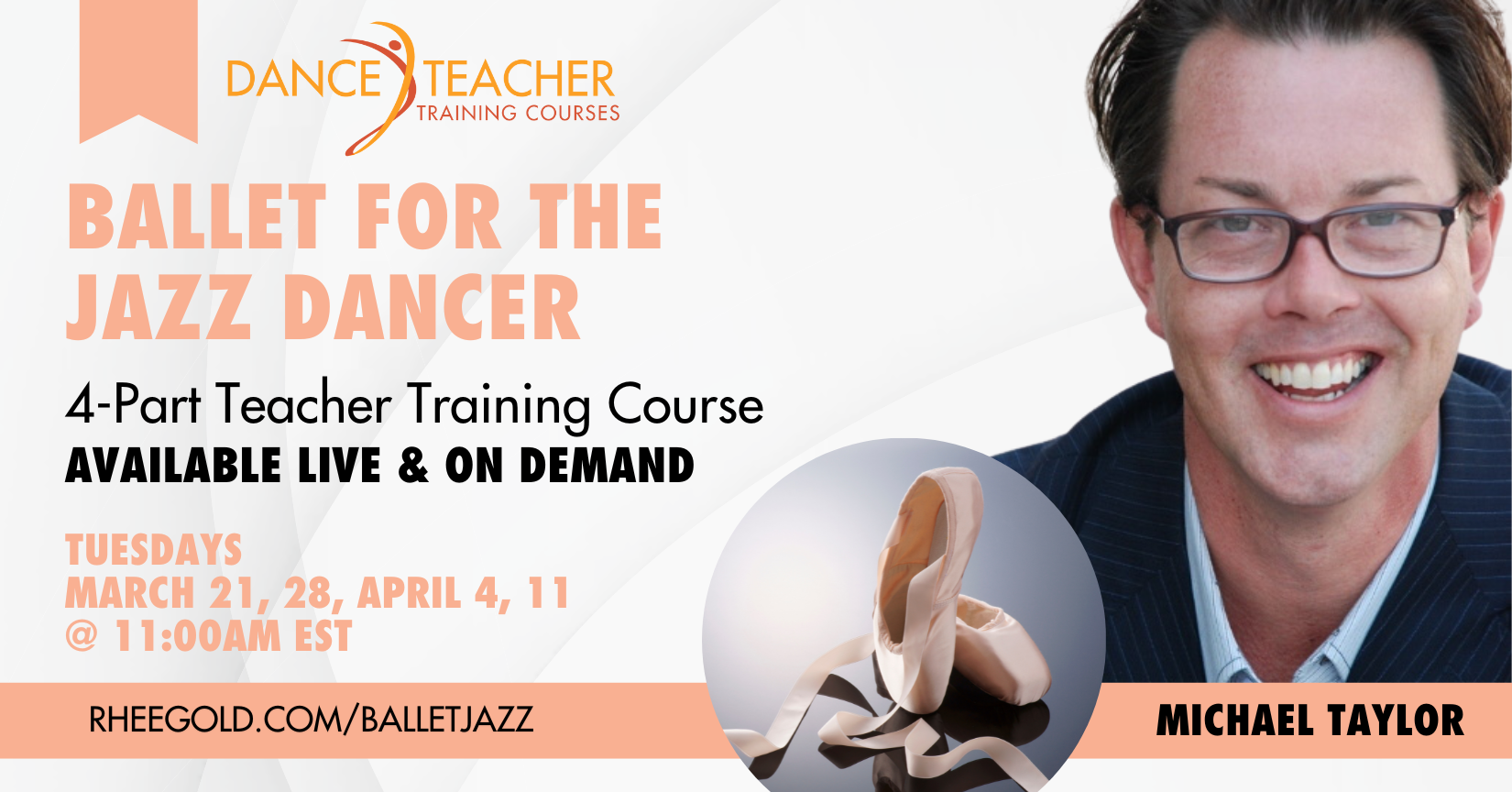 4-Part Series for ALL Dance Educators
Ballet for the Jazz Dancer
AVAILABLE LIVE & ON DEMAND
Join master teacher, Michael Taylor, for a course designed to make ballet approachable for the jazz dancer. This course is focused on helping dance educators make ALL their dancers the best they can be. Michael is well-versed in current day studio culture and needs and the challenge of creating a well-rounded dancer vs. a ballet dancer, so the four sessions will concentrate on improving the technique of ALL your studio's dancers.  Time will be spent sharing technical tips and suggestions to assist classroom teachers in their work of educating young dancers.
Ballet Barre Basics, Part One
Session 1- March 21 @ 11:00am EST
This session will break down plié, tenduè, degaggè - with beginner, intermediate and advanced options. Focus will be given to sharing combinations that can easily be adapted for the classroom at different levels. In addition, work will be done on placement/accuracy and helping the student to apply these principals in the classroom. There will also be time for positive discussion on "making mistakes." It's part of the learning process, and it is important fort the dancer, as well as the teacher to understand this.
Take it to the Center
Session 3 - April 4 @ 11:00am EST
Session 3 will focus on center floor combinations and tips for beginning through the advanced dancers, including tenduè, degaggè, pirouette, petite allegro and more! Work will be done on jumping with turning for the beginning to advanced dancer. There will also be focus on placement/alignment. This session will also incorporate a discussion on the reality that each dancer learns at a different pace, and ways to make that situation easier in the classroom.
Ballet Barre Basics, Part Two
Session 2 - March 28 @ 11:00am EST
Building off the principals in session one, there will be more work plié, tenduè and degaggè options, as well as rond de jambè, rond de jambè en lair, passè combinations, and grandè battement, etc. Patterns will be demonstrated that help with both technique and the mind! A win win! There will be concentration on other technical combinations to incorporate into the classroom right away. Time will be given for discussion about some of Michael's favorite combinations which he recommends for the beginning, intermediate and advanced classes.
Let's Get Grande
Session 4 - April 11 @ 11:00am EST
This session dives into grandè allegro combinations and tips that will help the beginning through advanced dancer improve their ballet technique in all areas of dance. Time will be spend on how to improve the transition steps that make the "big things" even better, by focusing on a few important details along with work on elevation on jumps in all age groups. Finally, placement - and why it is important and will help every dancer to improve.
15-minute Q & A for live participants

Includes links to resources & handouts for each lesson!